NexusWorx is . . .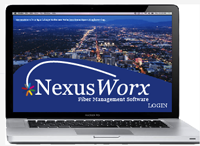 NexusWorx is a full-featured GIS-centric system that models physical and logical connectivity of fiber networks from strand to strand, strand to port, or port to port for every type of fiber network configuration including FTTH. It is an easy-to-use web-based application rapidly deployed as a hosted or a licensed solution.
NexusWorx provides fiber management / facility management for all of your fiber network assets including communication equipment and intelligent transportation devices. NexusWorx's pre-defined and customizable database; document management system; and reporting and mapping capabilities; will enhance efficiencies in planning, design, and streamline operations and maintenance throughout your organization.
NexusWorx News Flashes:
updated May 13, 2019
New Jersey Department of Transportation – Byers commences this month an initial implementation for NJDOT Mobility of NexusWorx. This project consist of NexusWorx configuration and deployment, in conjunction with GPS Mapping and inventory of Fiber/ITS assets along I-287 and US Route 22 in Somerset County. The project will allow NJDOT to determine operational and data maintenance processes for full statewide implementation. This initial project will be completed by September 2019.
City of Atlanta, Georgia – City of Atlanta has committed to utilizing Georgia Department of Transportation's deployment of NexusWorx for ITS.
Midwest Fiber, Wisconsin – Byers has agreed to provide data encoding and data maintenance for Midwest Fiber, a CLEC operating in Wisconsin and surrounding states.
Indian River County, Florida – Byers will start phase 2 of GPS Mapping, inventory, and data encoding of the fiber optic plant for the county, project will be completed by 4th Quarter this year.
NexusWorx moving to Java 12 – As part of Oracle's phasing out support for Java 8 NexusWorx moving to Java 12 by end of 3rd Quarter of this year.