It's Simple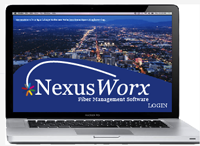 Fiber Management Made Simple
Because of NexusWorx's simplicity, functionality, ease of use, and at an easy-on-the-pocketbook price, NexusWorx makes it possible for all customers, regardless of network size and market, to obtain operational efficiencies and to enhance design and engineering processes.
Simple and Easy to Use
All the details and connectivity information you need to manage your network accessible anywhere via the world wide web in a user friendly application. Sharing information among departments and organizations is also simple with user-specific controls and easy import and export features.
Simple to Implement
The NexusWorx hosted solution and our cost effective data services and annual service plans makes getting up and running with NexusWorx quick, easy and extremely affordable.
Simply Fiber Management
NexusWorx is focused on the physical asset management of fiber networks and their components. It is one software system, not multiple modules or an add-on to another CAD system.